Dimmers
We are the sole UK distributors for PLS Electronics, based in Hungary. PLS are a leading manufacturer of dimmers and DMX control systems. We have an excellent relationship with them and have jointly developed new products.
The different types of dimmers that we provide and the specifications are: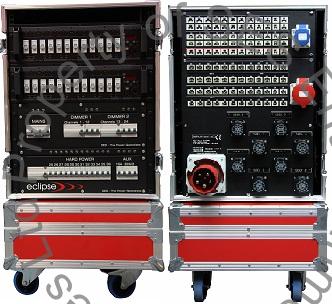 Tour Dim
Tour Dim; With a 125A/3 inlet, the unit has 24 x 3.7kW dimming channels, 12 times 16A hard power and a patch panel feeding 8 times Soca. There is also 1 times 16A/1 and 1 times 32A/3 aux sockets. The unit is supplied in tour grade flightcases with castors and patch cables.
Mini Master; Available in 6 x 2.3kW, 6 x 3kW, 6 x 3.7kW and 3 x5.7kW models. DMX or local control via illuminated sliders. These are ideal for Film and TV applications where lighting levels need to be adjusted manually.
X-Lite;Available in 12 x 2.3kW, 12 x 3.7kW and 3 x 15kW models The X-Lite is the semi-professional 'big brother' of the Mini master. These units are designed for either touring or small theatres and auditoriums.
Pro 2;Available in 12 x 2.3kW, 6 x 5.7kW, this is the top end of the range with a host of features only found on more expensive units from our competitors. It has Led's for trigger level and output level monitoring, with a user friendly menu system with LCD screen. Individually adjustable parameters for each channels, and a 16-step user editable screen memory. There is a DMX recording option with adjustable fade-in and out times for memory playback.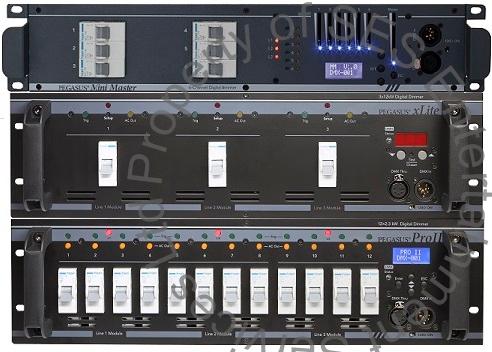 Pro2, X-Lite, and Mini Master
MD1;63A/1 unit with 15kW dimming capacity, a low noise internal fan, and a robust lightweight aluminium body, this portable single channel digital dimmer is designed specifically for the film and TV industry. It also has LED's for trigger level and output level monitoring, with DMX or local controlling.
Wall mount;These dimmers are designed for permanent installations where rack units are not practical. They have 12 or 24 channels in 1.4kW, 2.3kW, 3kW 3.7kW. All have options on rise time filtering. Orderable Dimmer or Relay modules per four-channel groups. All incoming mains are MCB or RCD protected. There is an easy menu control with four push buttons and control signals indicated with LED's. There is an optional dual opto and power isolated DMX input and DMX record function to store DMX levels to internal memory. There is also a built-in test function to check individual outputs.
Rig Dim;This dimmer can be very easily mounted to trusses and comes in four different models. The power input via a rubber cable. A global DMX start address is set on seven segment display push buttons and a test funtion to check operation and loads.
Cute; 3 times 63A digital dimmer and power distributor with a 12-channel dimmer and direct outputs up to 16A per channel on 4 times 16-pole 'Harting' or 4 times 19-pole 'Socapex' sockets. Aux 16A CEE 16A 3 pole output with RCBO in the back panel. 63A 30mA RCD protector, and a built-in two way isolated DMX splitter.
There are a number of additional products manufactured by PLS, please see their website for details or contact our sales office.
<! --- end .content --->