SES are very proud of the products we manufacture, and the length of time that some of our customers use them for. However we are also in the business of looking after our customers after they have purchased goods from us.
We offer a range of services to ensure that our customers are 100% satisfied with the products before they receive them, as part of the in-house service through the manufacturing process (Design service and engraving) after they have them (Maintenance contracts and repair) as well as having fully qualified electrical installers on site.
If you are interested in any of these services, and would like more information, please contact our office, we would be more than happy to discuss the specifics through with you.
Engraving
At SES we have the ability to engrave connectors, Soca, HDPE boxes and 19" Racks with your logo, making your products completely individual to you. Alongside this we also engrave the rating plates which are affixed to our boxes, and the very fine detailing on the front and back of the 19" racks.
This service is free of charge, and is something we would highly recommend as it adds a certain 'je ne sais quoi' to the equipment.
Design Service
The majority of the products we manufacture and design precisely for specific needs outlined by a customer. After taking these specifications and giving a quote, based on the individual components and time, we use CAD/CAM in design the product. The customer will receive this distro design drawing and approve them to ensure that we manufacture exactly what is required by the customer.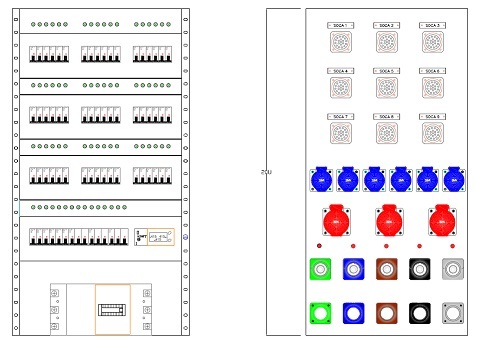 This is an example of a CAD/CAM drawing
Maintenance Contracts
These contracts are available on all of our products, 'off-the-shelf' or bespoke, upon request from the customer. They can cover some or all of the servicing that might be required for our equipment for a defined length of time. The level of protection that is covered by these contracts is variable and negotiable and can be changed when/if the customer requires it.
Repair
Our repair service is a lifetime commitment from us to you!
If within 12 months of receiving your products there is a component failure we will replace the part, re-test the equipment and send it back to you free of charge. If the product stops working correctly due to misuse, neglect or damage we will repair any/all components that aren't working, re-test and send it back to you with a minimal charge.
For as long as our customers continue to order and use our products we will offer this service of repairing them back to the high standard that our equipment is when is first leaves our offices.
Install
We are able to deliver and install products that need to be part of a structure, such as theatre panels and industrial based products. This installation process is carried out by our fully qualified and certified members of staff.
The level of installation required will dictate the cost, as this is fully dependant on the amount of labour required.